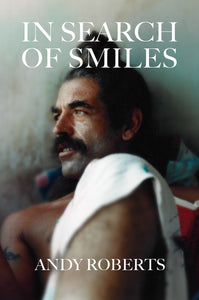 Psychedelic Press
In Search of Smiles by Andy Roberts
HB / PB ISBN: 9781916266773 / 9781916266780
The life of Alston Hughes, aka Smiles, is an extraordinary journey through Britain's counterculture and illicit drug networks in the late twentieth century. A key figure in the Microdot Gang conspiracy, Smiles shifted millions of doses of LSD before being arrested in 1977 by Operation Julie—the police investigation which unearthed what was then the largest LSD manufacturing and distribution operation of its kind.
Based on a series of interviews, Andy Roberts' In Search of Smiles is an enthralling folkloric biography of a life lived to the full, and a culture pushed to the edge. From a tough upbringing in postwar Manchester, to free festivals, hashish smuggling, and travels to South Asia, Smiles' cat and mouse adventure with the authorities weaves through an intimate portrayal of his life, relationships, and community in the village of Llanddewi Brefi and beyond.
-----
Author: Andy Roberts turned on, tuned in and dropped out in 1972 and since then has been writing books about strange things including mystery animals in Britain, UFOs, folklore and Earth Mysteries. Since 2008 he has devoted his time to unravelling Britain's psychedelic history and culture with Albion Dreaming (2008), Acid Drops (2016) and Divine Rascal (2019). He lives in north Wales with t'bird and a cat called Pepper.
---
Share this Product
---
More from this collection