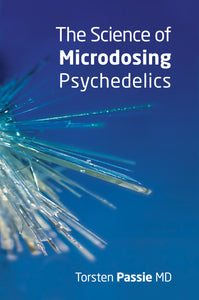 Psychedelic Press
The Science of Microdosing Psychedelics by Torsten Passie
Paperback | ISBN 9780992808884 | 246pp | 2019
Less is more? Extraordinary claims about the effects of microdosing psychedelic substances include the ability to enhance creativity, elevate mood and even combat depression. In The Science of Microdosing Psychedelics, Dr Torsten Passie reveals a rich and largely ignored history of research with microdose, minidose and low-dose LSD, and other psychedelics.
With microdosing being lauded across the media as a potential panacea, this carefully researched and comprehensive book covers key areas such as tolerance, toxicity, and placebo. It also includes newly translated and never before referenced LSD studies. A book no discerning researcher, practitioner or psychedelic aficionado should be without.
Torsten Passie: Torsten is a professor of psychiatry and psychotherapy affiliated with Hannover Medical School, and led the Laboratory for Consciousness and Neurocognition. He has conducted clinical research on psychoactive substances and has written several books including The Pharmacology of LSD (2010) and Healing with Entactogens (2012). Between 2012 and 2015 he was visiting professor at Harvard Medical School.
"Finally, a book about microdose research I can recommend without reservation" - Microdosing researcher, Dr James Fadiman
---
Share this Product
---
More from this collection