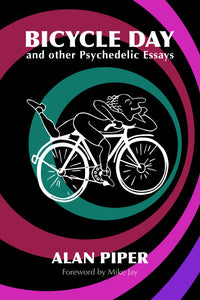 Psychedelic Press
Bicycle Day and other Psychedelic Essays by Alan Piper
ISBN: 9781916266759 | 126pp
Hardback, black cloth, gilt lettering (ltd ed. 300) - exclusively available from here!
What are the roots of psychedelic culture? Why are psychedelics seen as transgressive? How was Albert Hofmann's discovery of LSD's effects entwined with a world at war? In Bicycle Day and other Psychedelic Essays, Alan Piper explores the often forgotten or ignored early histories of psychoactive drugs that helped shape psychedelia.
Falling between the eighteenth century, the Club des Hashischins and the psychedelic sixties, the less explored interwar period has a surprisingly rich culture of drug-induced mind states, which are intimately connected with the birth of modernism.
From the literature of Hope Mirrlees, David Lindsay and Ernst Jünger, to Harvard peyote experiments, Hofmann's occultic circles, and the relationship of Sandoz pharmaceuticals with Nazi Germany, Alan Piper's collection is a rich tapestry of literary and social drug history.
Includes a Foreword by Mike Jay: "Alan Piper has been exploring these twentieth-century margins with quiet persistence over many years, excavating the foundations of the psychedelic era and exposing its roots among the thinkers and writers of the previous generation" 
Alan Piper is a graduate of the psychedelic sixties and seventies. After attending Kingston Polytechnic (BA in The History of Ideas), he has since applied himself to investigating the literary and social history of drug-induced altered mind states, with a focus on the interwar period in Europe and North America. He lives in London.
---
Share this Product
---
More from this collection